Conservative Management and Rehabilitation of Lateral Elbow Instability
(1) 
Phase I: Day 1-4 weeks 
LCL deficiencies are best splinted with elbow at 90° of flexion and forearm in pronation (See Fig. 1). This position approximates the radial head to the coronoid and reduces the stress on the lateral soft tissue structures. Supine exercises allow gravity to aid in ulnohumeral reduction whilst maintaining motion. The need for splinting and rate of progression from active assisted to resisted exercises is dependent on the degree of instability whether the elbow dislocation has been conservatively managed or surgically stabilised.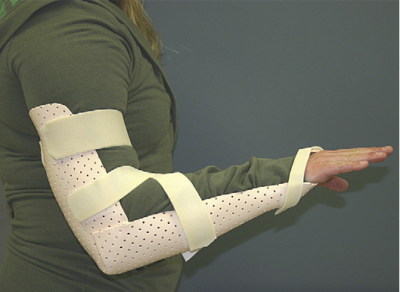 Figure 1: Posterior elbow splint with elbow at 90° and pronated forearm position 
The splint is worn continuously for 3-4 weeks except for exercises and skin care unless the LCL has been surgically stabilised in which case a sling should be used for 3-4 weeks 

Exercises commence within 1 week following reduction of the elbow 

Introduce active assisted or overhead exercises 15x every 2hrs (See Figure 2) 

Progress to active and then resisted exercises 

Forearm rotation exercises only performed with elbow flexion 90° or greater 

Shoulder, wrist and finger active motion exercises throughout program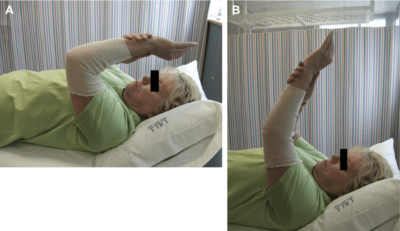 Figure 2: (A, B) Overhead flexion and extension in supine position with shoulder flexed to 90° and pronated forearm position 
Phase II: 4 to 6 weeks 
Joint stability I soften achieved by 4 to 6weeks following trauma or surgery. During this phase of elbow rehabilitation, the goals are to maximise elbow and forearm range of motion whilst maintaining elbow stability and maximising strength of the lateral muscles. 
Discontinue posterior elbow splint 

Collar and cuff or sling to be worn when out of the house or when active, fracture

protection

Apply heat before exercise to increase tissue compliance and greater arc of motion 

Flexion-Extension exercises performed with forearm in neutral position, 25x each hour

in supine or erect position

Forearm rotation exercises continues in 90° of elbow flexion 

Wrist and digital extensor strengthening increasing resistance 

Increase grip strengthening exercises 

Encourage light ADL's avoiding the combined position of extension and forearm supination 
Phase III: 6-12 weeks 
Range of motion limitations are lifted during this phase, as the joint should now be stable. The goal of rehabilitation in this phase is to increase mobility, strength and endurance and overall upper limb function. 
Free weights and elastic bands can be incorporated into the program to progress strength 

Strengthening of elbow flexors with the forearm in pronation for the first 2 weeks reduces the risk of recurrent instability 

Triceps strengthening 

Shoulder, forearm, wrist and hand strengthening must be incorporated in this phase of

rehabilitation

Heat and stretch, passive range of motion and static progressive splinting can be helpful

in restoring flexion contractures